Initial impressions of the 2016 KTM eGnition are not uniformally "Wow, what a pretty bike". Hah, it's true to say that she ain't a thing of beauty.  Instead, I think the bike looks agressive, chunky and industrial.  There's a definate feeling of "early version" to this eBike, as demonstrated by it's side-lining for 2017 to just being one of KTM's S45 bikes.  The standard eGnition is now replaced by far sleeker looking eMTBs from KTM, like the Macina Lycan below.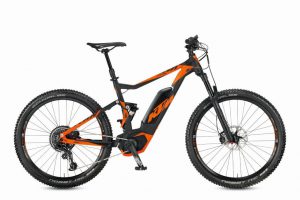 However, that's pretty much where the negatives end, because to ride – this bike is an absolute riot.
There is a ton of power on tap, lets make that clear.  The Bosch Performance CX drive gives upto 75Nm of torque.  To put that into some normal context, a VW Passat 2.0 TDi engine produces only 3 times more torque (Source).
That's a third of the power for pulling a 2.2tonne family estate car.  It's a lot.  It'll pull you up ANY hill, in any conditions, over any terrain and I really tested it at times, having ridden through axle deep bogs, snow drifts and up seriously steep Lake District bridleways.  I am still yet to stall the bike's power, in fact I think the chain would snap before the motor stopped turning, which thankfully never happened!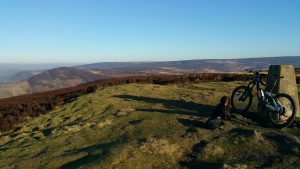 OK, so it'll get you to the top with ease.  What about how it rides?  Well, it's harder to talk about than you might think.  You see, the grin factor while riding the eGnition uphill never wears off, at all.  Not even for a minute.  There were times when the only reason I got out of breath was from laughing so hard at how this bike just demolishes hills.  I remember riding some hills just thinkng "this can't be legal, it's just not right" because it just seems too good to be true.  Like there's going to imminently be some huge string attached or downside.  And you wait for it, but it never arrives.
Anyway, when I did finally find time to think about the bike's overall handling and demenour, it came as no real surprise that it too is really great fun.  The KTM is a lot more manourverable than the weight suggests.  It's actually extremely playful and great at pushing tight muddy turns.  I think it's best attribute is actually aided by the additional, but very central weight – which is smashing through rocks at max speed.  The suspension tracks with great sensitivity and feels glued to the trail.  The long chain stay does make popping the front wheel up a little harder though and manual-wheelies are really difficult to start and even harder to maintain.
I think the eGnition's greatest attribute is simply its versatility and eagerness to just ride up, over or through anything.  Its like a daft spaniel dog, with tons of energy, a lust for life and just keen to go wherever you want….. at maximum speed, with minimal effort.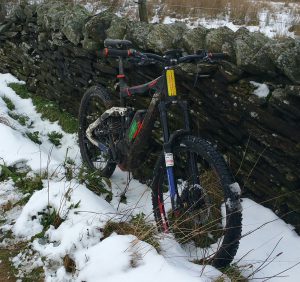 Limitations
Probably the biggest issue while riding cross-country on the KTM eGnition is lifting it over stiles.  It's heavy, there's no way around that.  And although it can and will be lifted over stiles, by the time you get to the 5th or 6th one, it starts to get pretty tiring.
The other more obvious limitation is the battery capacity.  The battery stat's quoted in Bosch's paperwork clearly aren't for bikes ridden on what I used it for.  When used for proper hardcore offroad riding, pretty much constantly in "Turbo", the range is little more than 15 miles realistically, which can be done in close to an hour, so for longer rides I had to be careful to use more of the "Sport" and "Tour" modes to stretch out the range.  If I was careful like this, range is much closer to 35 miles, even in muddy hills.  Not fantastic, but it's certainly enough to have a really good time.
As well as cross-country rides, I also rode at quite a few downhill tracks.  Look closely at the featured photo above and you'll see an "Annual pass" sticker on the fork leg for the excellent Farmer John's DH Bike Park in Marple.  This is really an area where the bike excells.  Pushing up DH tracks like this is really hard work, especially when it's muddy, and it's fairly normal to expect around 6 full runs in a whole day, maximum.  Well not on the KTM.  It's hard to believe how many runs I could do in just a few hours.  In fact, you probably wouldn't believe me, so I'll just say that after 25 I lost count.
The final limitation of the bike is the rear shock.  Fox XC air shocks have come on leaps and bounds in recent years.  I think the latest EVOL air chambers show the best of this and are rediculously plush and well controlled for their weight.  However, 160mm rear wheel travel is a lot to ask from a relitively tiny 50mm shock travel.  Generally, anything over a 3:1 wheel/shock travel is asking a lot, but the issue is made worse by the extra suspended-weight of this eMTB.  I put the maximum sized volume reducer insert inside the air chamber, but it only had minimal effect.  For big-hit DH tracks I ran the shock at close to it's maximum stated allowed-pressure (240psi).  This was enough to stop bottoming out while still keeping it plush and active, but it got pretty hot at times.  To be fair, doing repeated DH runs is a bit beyond the bike's remit and I think it's fair to say the bike handled it well considering I'm 90kg's.  It's not really a DH bike and I certainly took it to it's limits more than a few times!
Things I changed over the year:
Firstly, it's tyres.  The stock tyres that come with a KTM eGnition (Schwalbe Fat Albert/Rock Razor) are great for what the bike is designed and what most people are likely to use this bike for.  They're a great trail tyre combo.  They grip most things ok and as long as you pump them up pretty hard and don't ride super rock stuff, they're fairly reliable and sturdy.  However – for me, they were the first thing to go.  On an eMTB I have no regard for rolling resistance or see any point in keeping tyres light-weight.  I just want maximum grip and no punctures, so after the 3rd puncture I fitted a pair of Schwalbe ProCores and some much more aggressive Continantal Trail King 2.4's.  That added quite a lot of weight to the bike, but weight that was only noticed lifting the bike over stiles and fences – on the trail I didn't notice the extra weight at all.  What I did notice and appreciate is the grip of good, soft compound, large volume tyres and complete safety of Schwalbe ProCores (Google it if you've never heard of them, but simply, its a dual chamber tyre system that genuinely illiminates punctures, even at super low punctures).  ProCores aren't cheap, but with an eMTB it's a perfect match.
The second and probably biggest change I made to the bike is the headset.  The stock headset is fine, but I wanted to stretch out the bike's head angle and wheelbase, so fitted a -2 degree angleset from Works Components and a shorter 50mm stem.  The headtube on the eGnition is a straight 1.5″ unit, so allows enough room to do this, even when using tapered steerer headtube forks.  It changes the head angle to around 63 degrees.  This really turned up the descending speed of the bike and along with the shorter stem, really compliments the longer than normal chainstays by moving the rider's weight much further backwards.
Summary
As I've mentioned, I took this eBike so much further than it's intended design remit – and that's because it dares you to.  I absolutely loved it.
I think most of the factory spec is perfect: the hugely powerful brakes; the gear range; the motor power; battery capacity; the components and wheelset.  Its all there and ready to tear the crap out of the trails.  The things I changed were relitively minor and only necessary if you want the bike to cater more purely to gravity and speed.  All the basic ingredients are already there for a versatile and hilarious adventure bike.