I thought I'd have a break from interviews this week and talk about The Bike Place trade show I attended this weekend just gone.
In the past The Bike Place has always been held on the same weekend as Core Bike Show, which is very close by, enabling bicycle dealers to visit the 2 shows on the same weekend, or even the same day.  This year that changed and they were held on consecutive weekends.  Whether this was a good thing, is debatable and although there did seem to be less people in the shows, it could be argued that it was more quality time as people were certainly less rushed.  Who knows….
I definitely expected to see more eBikes at The Bike Place though.  At earlier shows in the year like the Birmingham NEC Cycle Show and Eurobike, eBikes were definitely centre stage on the majority of display stands.  Maybe it's due to the time of year and exhibitors haven't got their new eBikes ready yet?  Or more to do with the lack of large bicycle brand exhibitors in attendance?  As well as the large US bicycle brands, other notable absentees were Cube, KTM, Raleigh and Haibike – all prolific eBike manufacturers.
That said, there were still some eBikes around and these are the 3 products that stood out to me:
1.  Orange Bikes, Halifax.
Orange was the only manufacturer there that chose to launch a new product at the show – that being an eBike built around the Orange Alpine Six (previously the Alpine 160) and a Shimano E8000 Di2 drive unit, although it should be pointed out that this eBike is not yet a production bike, simply a prototype from Orange's "Strange" skunkworks department.  I have little doubt that this, or at least something similar from Orange, probably will make it to production at some stage, although one would hope in a tidier form as this one did little to hide it's rather "prototype" jagged edges.  I'm sure it will.  My guess for the retail bike (of similar spec to this prototype) would be around £6-7,000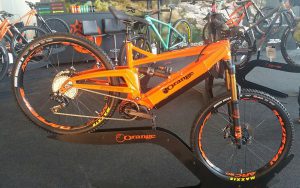 2.  Pendix add-on eBike drive system
Not all that new, but the first time I'd seen a working version of this.  Obviously there is a huge plethora of home eBike retro fit (read "bodge") kits available, plus quite a few people have just entirely made their own, often ludicrously powerful (and illegal) bodges, but this is one of very few that I think is quite neat and has a realistic chance of selling wide-spread as an after market add-on kit for a normal bicycle.  Quoted power is the legislated 250 watts nominal and a max torque of 50Nm – ie perfectly legal.  The battery is 300Watt/hours.
Pendix claim that their kit can be retro-fitted to pretty much any bicycle, hence using a Brompton folding bike to demonstrate this.  The bike even remained completely fold-able.  That said, I think it's still mostly aimed at the road/commute/hybrid end of the bicycle market.  RRP is £1600 for the kit (plus bike obviously!) so still relatively expensive.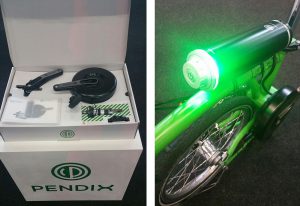 3.  Focus eMTB
There isn't really anything revolutionary about this eBike, I just think it's one of currently very few that have achieved an eBike that looks very similar to a standard bike and yet isn't really ugly.  Kind of like Specialized's Levo.  To me, very few other eBikes look this sleek although I know other brands are finally making serious efforts into designing eMTB's that don't look quite so home-made.