A couple of weeks back I attended the Bosch Training day hosted by Trig Point Sales in Glossop to find out about the latest Bosch products for 2016 and the latest servicing techniques. Organised by KTM, the day was a chance to hear directly from Bosch about the latest on eBike technology and put to them some of our questions and quires.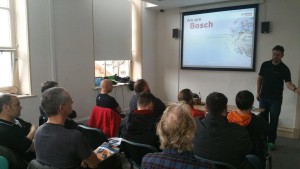 First thing of note about Bosch drive systems for 2016 is the release of their greatly anticipated Performance Line CX motor. The CX motor has been specifically designed with mountain biking in mind and, as a result, incorporates several features to assure
The CX drive produces and incredible 75Nm of torque, giving pedal assistance from 50% up to an impressive 300% and assuring you can take on any terrain. A Direct Flow system has been specifically developed to excel off road, delivering continuations torque even at low cadence. The results are instantly noticeable. Even on fast twisty single track, the CX drive delivers an abundance of power the moment you step on the pedals out of the corners. Finally the motor casing has been purpose built to give a rugged look, and to help keep the motor protected on all different types of off road terrain.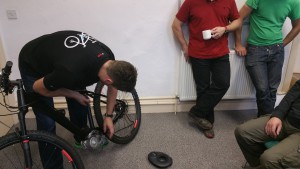 Next up was is the extensive diagnostics system offered by Bosch. This system is something Bosch is very proud of and rightly so. By connecting the bike to Bosch's diagnostics hardware (held by all good Bosch dealers, and of course by Manchester eBikes), a full readout can be achieved of all Bosch products: motor unit, battery and display unit. This readout, can locate and correct any system faults, recommend system updates and show the history of the product, including the number of miles done and the number of charge cycles done.
Finally, Bosch has released a new 500 watt Battery. This new 500 watt battery incorporates all the the same features of their 300 watt and 400 watt batteries, but delivers a higher output for longer. In fact, the 500 power pack delivers 25% more range for just 4% additional weight. Guaranteed for 500 full cycle charges (from when the battery is completely run down, until it is completely charged), the Bosch battery can be charged in just four and a half hours.
So, all in all it was a great day! We hope you have found this post informative and useful.